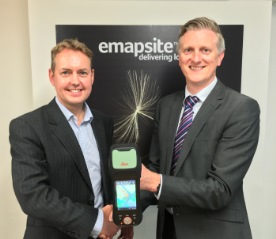 Leica Geosystems and emapsite announce new strategic partnership
Leica Geosystems and emapsite announced today a strategic partnership which launches an industry-first subscription service to Ordnance Survey flagship product, OS MasterMap, available exclusively on the Leica Zeno 20 high accuracy field data collector.
The Leica Geosystems Zeno MasterMap Service is an Open Geospatial Consortium (OGC) compliant web map service (WMS) that enables field workers to access the most detailed and up-to-date mapping of Great Britain on-demand. This ground-breaking announcement significantly enhances the user experience and provides vital context to users ensuring high accuracy data capture for all field workers.
Daniel Slater, emapsite sales director, said: "This partnership will revolutionise the availability of detailed mapping for all field workers in an easy and affordable way. Leica Geosystems' customers will be able to access OS MasterMap, a £5 million dataset, on-demand for a low-cost subscription. Emapsite's WMS feed is continuously updated and this level of detail, accuracy and currency will be hugely valuable to many professionals."
"The Zeno 20 handheld GNSS data collector is a rugged, high-accuracy field device that everyone can use. With an Android operating system, users collect and manage GIS and asset data easily and accurately. With this partnership, Zeno 20 users now have easy and convenient access to the most accurate mapping data from Ordnance Survey meaning they are more productive and better informed while undertaking their daily tasks," said Nathan Ward, Leica Geosystems market segment manager.
To find out more about the Zeno MasterMap Service from Leica Geosystems and emapsite, visit Leica Zeno.