​​Subsidence claims are up – so what can insurers do?
As has been said recently in the press and other online articles, we've seen a good deal less rain during the autumn and winter for two years in a row now. That's meant lower stocks of water all round and, it's not a surprise, we're starting to hear reports that subsidence claims are going up. Subsidence still represents around 4% of all claims per annum, which in real terms is between £110 million and £120 million every year – so the question is, can insurers do anything to help combat this problem?
Claims are up 20%
Some of the UK's largest insurers are expecting subsidence claims to be up as much as 20% on last year. In the main, this is due to a lack of rainfall in the south east during June. In particular, as people have returned from their holidays – having turned home irrigation systems turned off – the damage is now starting to become apparent, and the bigger claims are coming in. It's a shame that homeowners don't understand the true, underlying threat to 'limp vegetables' may be more severe than they imagine.
The knock-on effects of drought cause land slip; clay substrates dry out due to low rainfall and associated defects start appearing in nearby buildings. Vegetation also has roots that reach out, subsoil, in search of moisture – compounding the issue, hidden from sight – and tree issues are still cited as the underlying problem in 7 out of 10 claims.
In the media, we've grown accustomed to reading loose interpretations of weather forecasts – often, it seems, relating to what's going on outside the journalist's window at the time: "UK HEATWAVE PREDICTED!" In contrast to previous, more detailed analyses, the Met Office and the BBC both run a strategy of issuing forecasts for as far as 30 days into the future ahead.
What's thought-provoking perhaps, is that today's leading insurers are more open to 'lateral thinking' that will help them to plan for this potential rise in subsidence claims – and to adjust their risk appetite and pricing strategy accordingly.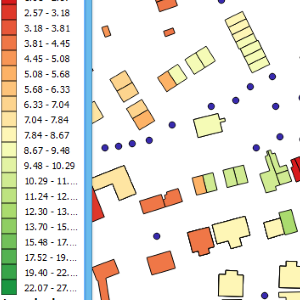 Understanding the problem
For insurers to plan ahead, they need to understand, at individual address level, which properties should be reflecting a higher risk of subsidence in their premiums – and also work with homeowners, to inform, educate, and potentially prevent small claims turning into larger ones.
In times of predicted drought, for example, insurers can start educating homeowners about the first signs of small problems, therefore preventing them from escalating. Small diagonal cracks in internal or external walls are often a primary indicator, as are doors and windows that 'overnight' seem impossible to open – but that's too late, in many cases. For insurers, it's knowledge in advance that's essential. The time to set a premium appropriately needs to happen before a claim, not during it or after the event.
This isn't as complex as it sounds: there's more than one way to identify the postcodes and properties that might be most at risk of subsidence. A retrospective glance at claims history shows areas that have already had problems in previous years, but the more pragmatic approach involves getting to grips with geological information and tree data – lots of it.
Understanding which homes are built on clay (in England, for example, our clay substrate extends in the main to the south of the Humber), and where there's rapid growth of tree canopies – even down to individual tree level – can be an indicator of problems in the making. Particularly close to new-builds. And this is exactly the kind of data wrangling we're experienced in, here at emapsite.
A great solution: Subsitree
To understand the potential impact of vegetation involves substantial processing capacity – making sure the data is as up to date as it can be – and analysts who can manage large geospatial and address datasets with confidence and accuracy. Not surprisingly, tree data is complex. We recognised this as we were developing Subsitree, our residential property subsidence risk scoring data.
Subsitree provides normalised risk scores – making subsidence risk easy to quantify on an individual property basis – and it's an ideal tool for anyone who'd like to see that risk in detail.
What's more, Subsitree is accessible in three ways – as a downloadable file, as a web-based service, and via our emapsite Perils data hub – which means these insights should be accessible to insurers, actuaries, underwriters, and analysts right across the industry,
Subsitree is more than a tool that can reduce the risk of subsidence claims, it's a way to change residential property insurance for the better. 
Simon Goodwin, Practice Head - Insurance, Finance & Banking at emapsite.com