OS Terrain 5
OS Terrain 5 is a detailed digital terrain model (DTM) of Great Britain. It is available as a grid of heighted points and contours, both at five-metre intervals.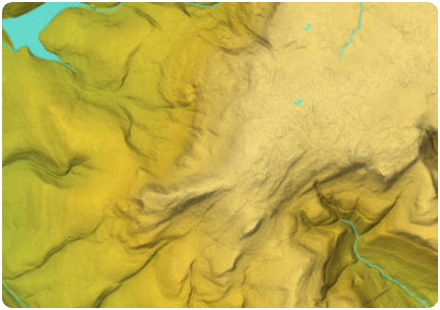 About OS Terrain 5
A true virtual landscape
OS Terrain 5 is the height data you need to model construction projects within the wider landscape. This helps you give planners an accurate virtual view of your plans and the steps you're taking to minimise their visual impact on the surrounding area.
Harness the elements
OS Terrain 5 helps you analyse wind speed and signal propagation. This is important when siting wind turbines, best located in exposed upland areas to maximise their power output, and mobile phone masts, which serve ever more data-hungry users.
Affordable
With both 5m grid and 5m contours in GML, Esri shape and ASCII grid available for one price, OS Terrain 5 puts the detailed analysis of Great Britain's landscape within reach.