OS MasterMap®
OS MasterMap® is the most detailed and accurate view of Great Britain's landscape. Buy OS Mastermap® from a trusted supplier with over 25 years experience from only £17.99. With dedicated support included at the end of a phone to answer all your queries it offers great value for money.
Download OS Mastermap in minutes in a variety of formats from the Emapshop MapShop App. The world's most friendly location data MapShop. Simply choose the area you're looking for, then buy and download what you need immediately. 
Choose OS MasterMap® or select one of our other large scale mapping items. For queries about our products contact us.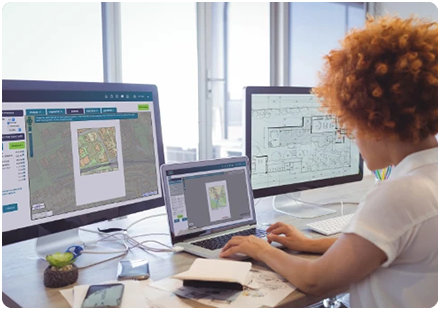 Query regarding Emapsite OS MasterMap Products
Why choose Emapsite for OS MasterMap?
By choosing us you can leverage our commercial experience and knowledge. As strategic partners of the Ordnance survey (OS) we will continue to innovate based on what you want.
We offer MasterMap in multiple formats, together with other data like Terrain, Aerial Imagery, Flood data and Reports, Historical mapping and Land Use, and underground utility data. Our team is always on hand to provide customer support and helpful advice from geospatial experts to help you get the most from our service.
Our cross-sector experience lets us bring innovation and insight to our products development, which in turn delivers user-friendly, insightful products for you and your clients.
• Easy to use self-service Mapshop, small area purchases, multiple CAD formats.
• OS MasterMap enhanced with land ownership boundaries, free building height data.
• No MasterMap viewing charges, pay-as-you-go, no monthly costs, competitive prices.
• 30 day refund policy*. Free reprocessing to get the latest map version.
• Access to mapping for Local Authority clients under their PSGA licence.